Helllo,
the last version 5.32-2900 reports bad value for Vcore on mu i7-5930K on my ASUS X99-Deluxe II :
My system is my sig
I set Vcore=1.17V in BIOS.
The Vcore value reported in your soft is 1.58V => False.
Your Vid value reported in your soft is ok (1.17V).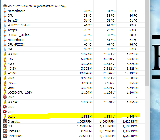 Could you please check how to report correct Vcore ?
I ask you that because we all use as overclokers your soft which is very nice, and in the same way, Aida64 reports correct value for Vcore (Measured Vcore and not vid, which is great), so there is no reason you can't do it i think
If you need more inputs, I am availlable
Thank you in advance.
MOBO ASUS X99-Deluxe II (BIOS 1401).
CPU INTEL Core i7-5930K @ Core=4,7GHz / Cache=4,4GHz.
RAM G.SKILL Ripjaws 4 DDR4-3000 16GB (4x4GB) @ 3200MHz
GPU GIGABYTE GeForce GTX 1080 Xtreme Gaming WATERFORCE 8G
SSD SAMSUNG 850 PRO 1TB.
OS MICROSOFT Windows 10 Professional Anniversary Update 64-bit.