Hello folks, hello Martin,
I am at the end of my knowledge. I would like to record some system parameters (CPU-Temp tctl, DIMM Temp, SSD Tem, VRM Temp, GPU Temp and GPU Fan rpm) via HWInfo, which has always worked great so far.
With the current system, HWinfo (or the system) bitches around and records completely wrong values, while the values in the overview are output without errors.
System:
HWinfo 7.22-4731
| | |
| --- | --- |
| CPU | Ryzen 7 3700X, 65 Watt TDP |
| Mainboard | MSI B350 I Pro AC (neustes BIOS Update zur Unterstützung der 3000er Ryzen) |
| Arbeitsspeicher | Corsair Vengeance RGB 16 GB DDR4-3200 |
| Grafikkarte | MSI Radeon RX 6700 XT Gaming X |
| SSD | PNY XLR8 Gaming 1 TB, M.2 |
| AiO | Corsair H100i Pro RGB |
| Netzteil | Fractal Design Ion SFFX 650G |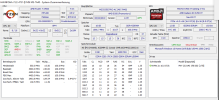 Since, according to research, there are often problems in connection with Corsair AiO wax, I have deactivated the reading of sensor data.
In the recording as a csv list, HWinfo gives me such values, for example:

Does anyone have any advice or can help?
Best regards
Jan