HWiNFO Author
Staff member
The next beta build of HWiNFO (v7.11) will introduce a new Dark Mode skin - Black. This will be an additional skin to the current Dark Mode (Grey).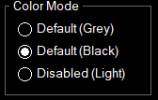 Besides this, there will also be some additional GUI tweaks to improve appearance in Windows 10 and 11.
I personally like the black layout more, hope you'll too
Any feedback is welcome.
Here a preview from Windows 11: