Hello Martin!
First i would like to thank you such amazing awesome tool. Without it i feel handless and blind.
PC System:
Hardware:
CPU: AMD Ryzen 7 5800X3D [BOX version];
TiM: Arctic MX-4 (not fresh, not old);
CPU cooler (air): Phanteks PH-TC14PE (Dual Tower, 140mm);
Motherboard: ASUS ROG Crosshair VIII Dark Hero (BIOS v4602);
RAM: 4x 8GB DDR4-4133 Team Group Xtreme
GPU: EVGA GeForce RTX 3080 Ti FTW3 Ultra Gaming;
SSD1: 500GB Samsung SSD 980 Pro (Top M.2 slot);
SSD2: 16GB Intel Optane (Botton M.2 slot, just for garbage flow, page file, chrome cache)
HDD: 500GB Western Digital Caviar Blue (SATA);
PSU: SeaSonic PRIME Ultra 850 Titanium (SSR-850TR)
Software:
OS: Microsoft Windows 11 Pro 22H2 (build 22621.2283) downloaded from Microsoft directly + hash tested before install.
AMD Chipset driver: v5.08.02.027
NVIDIA GPU driver: v537.24
Windows power plan: High Performance
BIOS settings: Default
So, i notice that when i use Boost Tester (which cycle load on CPU cores) i can't get it's maximum frequency for single core - ~4 550 MHz (with disable Spread Spectrum and BCLK = 99,98 MHz it's more close to 4 549 MHz, but anyway).
What i see in HWiNFO64 (with enable "Snapshot CPU Polling" and Polling Period = 500ms by the way) that maximum effective clock around 4 536-4 537 MHz.

Then i close HWiNFO64 and started Ryzen Master and enable Histogram to record peak values. And they are diffirent - 4 548-4 549 MHz. Really close to what should be.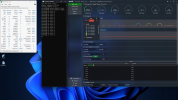 Again, default BIOS settings. Zero overclock\undervolt. Fresh Windows install from Microsoft site. I think i only disable Hyper-V with Blue Stack file - "HD-DisableHyperV_native_v2", but i did check Hyper-V after install windows - it was disable anyway and result before that also was similar.
So, something interfere with CPU?
Also, should i upload Debug Report from HWiNFO64 after Boost Tester (1 pass for 1 core)? It's about 11 Mb for DBG file.