When I booted my Windows 11 PC this morning, I saw this error message.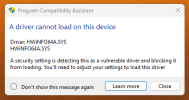 I have never seen this error before this morning.
I can turn off Windows Memory Integrity which probably will get rid of that error, but I don't really want to do that.
Google search finds stuff about HWiNFO, but I have never knowingly installed that.
The only thing that might be related to why this error pops up now (but never before) is a Windows update that installed late last night.
I downloaded and ran your hwinfo v7.60 program. It doesn't install the program but runs without installing. It runs without any error or other indication of a problem, but I still get that error message whenever I start Windows.