Hi,
Not sure when it started I've been using v6.08 so long I really didn't like the additional changes to core listings... after this version so I stayed with it
But I tried some newer versions the other day and at least v7.0 and newer 7.36 after a short time +-10-40 minutes starts misreading core frequencies and bus quite a bit 10GHz + on win-11 pro
Win-10 is actually a little worse I saw 20GHz same system lol
Where as 6.08 shows normal after no time limits really but screen shot is after 3 hrs and newer version at only 40 minutes it started acting up
It likely started sooner since I wasn't watching it I don't know when
Just now I started up v7.0 again and did a bug file when readings were looking normal and the bug file worked and showed 8mb+-
I waited for the frequencies to act up then started bug reports looks like it created one after I closed hwinfo this time.
Not sure how to upload these though only images and links guess onedrive
Removed useless to issue.
I.m not using any other monitoring software and no oc
z299 apex/ 9940x/ 3600c16 4x8gb custom water loop.
But as said no issues with older 6.08-3830
Only other deal is I use the portable versions.
Right click zip folder/ properties and use the unblock block/ save.
Extract all and shortcut to desktop 64bit version.
Win-10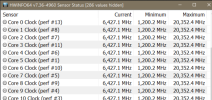 Last edited: