Hi All
New to the tool and the forum. I have a Ryzen 5 2600X in an Asrock X5570 Phantom Gaming 4 motherboard.
This metric is reading as follows, which seems to be far out of spec: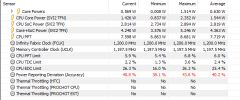 The machine has been quite unstable, but I'm not sure whether that's part of the same thing. Happy to share any other info that would be helpful, and delighted if you can help me solve it... or tell me it's not something to worry about if that's the case.