Hello,
it would be nice if someone could help solve my confusion about different versions of HWiNFOMonitor. My gadget on my old computer looked like this: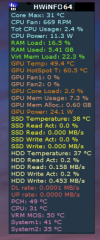 After reinstalling Windows on the same computer, I installed HWiNFO againg together with HWiNFOMonitor, but know it looks like this:
I do not mind the different optics or colors, but I would like to have decimal places values again.
Sadly, I did not write down the exact version of the gadget on my older OS but I am quite sure that it was also HWiNFOMonitor.
Does anybody have a clue which version I had? I tried to configure the new version to show decimal places but failed.
Thanks in advance!