Since I am using an Elgato capture card in the 2nd PCIe slot, my 1st PCIe (the one with the graphics card) operates in x8 mode only, but x16 is displayed in system summary and in the reports.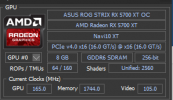 In comparision the Asus GPUz diplays this correctly: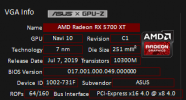 The issue might be caused by (what it seems like) the internal PCIe switch in the graphics card. So the actual GPU is on a x16 bus, yet the upstream is x8 only.