Hi all, I am curious about how these timings for the table were generated, especially the ones belonging to XMP:
Some background
:
I have this 3600mhz(XMP rated) ram sticks that unfortunately will run in Gear 2 (Memory controller frequency runs at 0.5x of DRAM frequency) due to me using i5-12400f which has a fairly weak IMC.
Since this processor officially supports 3200mhz, I would like to run it at 3200mhz instead so it can run in Gear 1.
My motherboard is TUF GAMING B660-PLUS WIFI D4 and inside the BIOS I can only see 1 XMP 'profile' and that is the 3600mhz @ 18-22-22-42 and don't see rest of the xmp profile/frequency/timing shown in HWINFO.
This is my ram: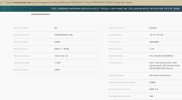 Question
:
Were the rest of the of memory timings just
extrapolated
from the main XMP profile (3600mhz @18-22-22-42) ? Because if these readings were from the actual ram itself, I would assume that it'll be safe for me to set for example 3200mhz @ 16-20-20-38-57 1.35V at Gear 1. Would that be the case?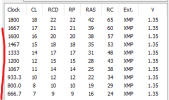 Thank you.