Normally I wouldn't ask and I know hwinfo can only tell so much without a multimeter but I was wondering if someone could take a gander at these voltages please.
From what I have read volts can be within 5% plus or minus and still be in spec but the AVSB and 3VSB_ATX voltages to me, Again I'm a total novice, Looks a tad high, Aren't they supposed to be close to 3.3 ?
Is it safe ? Any info would be appreciated.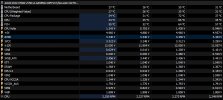 Last edited: