I've typically just disregarded the VIN voltages (like VIN4, VIN5, etc.) because I saw that they can give unreliable readings due to the way the motherboards are designed or whatever; however, I'm now curious as to whether or not they have meaning.
here's a screenshot of my Motherboard section on the latest version of HWInfo; there really isn't much info online, but do these VIN's each have a specific meaning? my mobo is an Asus ROG Strix B550-F Gaming Wifi II on Bios Version 2806
do these have clear meanings on my motherboard? do they appear abnormal if so? or are they completely irrelevant? I've not been able to find many posts, furthest I got was someone on Tom's Hardware saying this: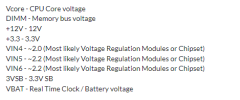 obviously I know what Vcore, DIMM, 12v, 3.3v, 3vsb, and VBAT are but the way VIN4/5/6 are described greatly confuse me. especially the numbers like 2.0 and 2.2. for example, saying VIN4 is Voltage Regulation is a very different result from another post I saw saying VIN4 is for the iGPU. any input? are these completely irrelevant readings for my B550-F, are they too low, too high, what's up with these?