I'm running HWinFO with the Rainmeter skin Sonder on two computers. On one, with a much older NVIDIA GT 710, I've had no issues setting up HWiNFO. The other computer has a far more recent AMD Radeon RX 6700 XT, and though I followed the same procedure as on the other computer—turned on share memory and all—the plugin isn't able to automatically detect the GPU. I've had to manually add the name and a few other sensors via the Sonder skin settings. However, that brings me to my next issue. These are the skin elements in question:
But thus far, I've only been able to find clock, temperature, memory clock, and core voltage. For whatever reason, everything else either has completely different names or seems to be missing.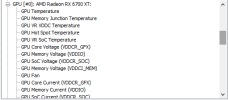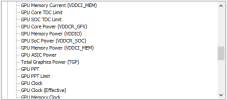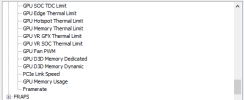 I'll be the first to admit I'm not the most technically savvy person in the world, so it's entirely possible that the sensors are in that list, just under names I don't recognise. It's also possible I stuffed something else up, somewhere along the line. Still, I would appreciate some help figuring out why HWiNFO isn't auto-detecting the GPU, and where the other sensors are/what other names they're going by. Thanks!