I was trying to run third party tool OCCT and it kept disappearing straight after starting. Looked in Windows Event Log and see this error every time:
The HWiNFO Kernel Driver (v174) service failed to start due to the following error:
Access is denied.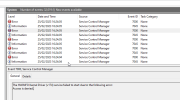 So I tried to run latest version of HWiNFO
and it when I hit Start I get...
What's going on? I don't have anything strange running in Windows 10 all up to date patches.
I haven't tried running HWiNFO in a long time, but normally run OCCT memory checking.
On Ryzen 5950X on X570 ASUS Hero VIII motherboard
I don't run ANY third party anti-virus or anything like that, and as i said OCCT definitely worked in last year. Also no idea why OCCT is using HWiNFO driver.