everytime i start the pc, i always see these values and i came to notice this when i was playing a game with RTSS on to see keep eye on my temps etc.
just to find that the cpu was getting a 0.00 voltage, so i decided to check on hwinfo and when i opened it i found this.
the way to "solve it" so far has been to close hwinfo and reopen, then the readings are correct.
what could be causing this problem?
my system is ryzen 5600x, latest bios from gigabyte and using update chipset from amd website.
windows 10 pro 21h1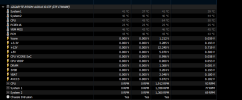 this is after closing and reopening the program.