No updates dialog box when always on top is enabled.
There is no way to click it this is what i see.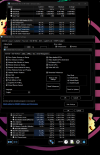 If i hit alt tab the dialog box is there and i can close it from there but obviously should also be always on top.
Super annoying until you learn you can just hit alt tab and close it from there, not sure if this can be fixed i found it super useful to have hwinfo always on top cos it usually does not come in focus when i click it from task bar at bottom right menu whatever that is called next to clock and menu that expands.