Deleted member 15652
Guest
Hi Martin, and everybody here!
Here is screenshot of my PC running Cinebench R23 MT test. I've merged two sensor panel screenshots from different modes.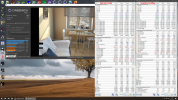 Can someone explain, why reported core VID's values are
- all
the same
and close to Vcore SVI2 value (normal mode - left panel)
- all
different
and unrealistically low.
Thanks!
_______________________________________________________________________


Ryzen 5 5600X, ASRock B550 Extreme4 ( agesa 1.1.0.0 patch D, smu 56.40 )