I have a Gigabyte X670 AORUS ELITE AX motherboard with a 7950X and latest BIOS. I wanted to see the new Gigabyte specific screens, so I gave 7.62-5200 standalone a spin. The sensor window is now much slower to respond when dragging or resizing the window. The older version also liked to stay at 0% CPU utilization with only the sensor window open but minimized, while the new version likes to sit at 3%, whether I minimize the sensor window or I close it.
I tried changing the theme from "Gigabyte" to "None" and also disabled "Highlight changing values" and "Row Shading", but the issues persist.
I also tried copying some of the settings from 7.32 to 7.62 after noticing the problem, but that didn't help. Here's my current settings for 7.62:
[Settings]
SensorsOnly=1
OpenSystemSummary=0
OpenSensors=1
MinimalizeMainWnd=1
MinimalizeSensors=1
MinimalizeSensorsClose=1
ShowWelcomeAndProgress=0
Autorun=0
SupportCorsairAsetek=0
AutoUpdateBetaDisable=1
AutoUpdate=0
Theme=1
SensorChangeHighlight=0
SensorRowShading=0
Are there any other settings I can change to help make the UI more responsive and use less CPU utilization? 3% utilization may not seem like a lot but that would be like 48% of a single CPU thread.
Here's what my CPU graph looks like with 7.32 running: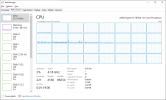 This is what it looks like with 7.62 running: