AMD own fps counter reports double the amount of fps then what my AMD overlay reports and rtss stopped working for some reason ever since i got my 7900 XTX
I mean the framerate at the bottom of gpu section.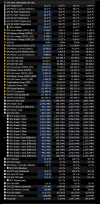 While rtss is running it reports framerate and framerate 1% low and framerate 0.1% Low and Frametime at min and max nothing to report cos it has no data even tho played some games.
I am on Radeon drivers 23.3.2 im aware that beta fixed sensors already since 23.3.2 that was not broken in 23.3.1 so thanks for those fixes, not in a rush as AMD did fix their overlay finally just annoying having to check fps via their overlay rather then my 2e display.
As for gpu internal Framerate counter i wish it would just read it from AMD adl if possible the one that shows on the overlay from AMD, my hwinfo subscription is renewing next month for 3e time looking forward to future updates and fixes thanks.