Hey, purchased a brand new computer and works fine and runs game perfectly.
I was monitoring my CPU temps using "HWInfo64", and noticed there are errors reported under "Windows Hardware Errors(WHEA)", specifically, under "PCI/PCIE Bus Errors".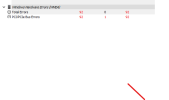 The errors keeps rising by the minute.
I think it's this one:
I browsed the "EventViewer" and noticed that there are Warnings reported from the WHEA logger, on a specific PCI device:
A corrected hardware error has occurred.Component: PCI Express Root PortError Source: Advanced Error Reporting (PCI Express)Primary Bus

evice:Function: 0x0:0x6:0x0Secondary Bus

evice:Function: 0x0:0x0:0x0Primary Device Name

CI\VEN_8086&DEV_A74D&SUBSYS_00000000&REV_01Secondary Device Name:
Not sure what this device is, or whether it is correlated to the errors I'm seeing in HWInfo, but I think it is. All the warnings come from this device. I'm not experiencing any issues on my computer so far (being a day), but these Warnings are bugging me.
Will appreciate any help, Thanks!