See screenshots below, but I don't think the VRs are pulling 62kW, ha. Nor do I think the ambient VR temp is hotter than the surface of the sun. This error happens mostly under load, otherwise the values seem fairly normal. I can consistently reproduce this by resetting max/avg and running Cinebench for 5 minutes. Otherwise it'll pop up like this randomly.
I've attached the logging for the runs that produced this error and a report.
Also, occasionally the DIMM temps will show strange values, like DIMM 2 reading 20F below ambient and I've seen values as low as -30C on different DIMMs.
This screenshot has
two
VR sections, but sometimes it's only one.
Here's a second screenshot where there's only
one
VR section with even crazier values.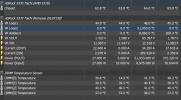 Thanks!