Hi,
I have manually set values for TDC/EDC/PPT in BIOS. But HWinfo (currently using version 7.07-4505 beta), reports the default values, but not the ones I have set.
Bellow is screenshot comparing what HWinfo shows and what Ryzen Master shows. The ones in RM are the ones I have set in the BIOS.
Motherboard is MSI x570 Unify with latest bios AA0 (ComboAM4v2PI 1.2.0.3b). CPU Ryzen 5900X.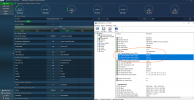 Edit:
Strange is that on the next run it showed them correct, and also some additional fields have been shown (cldo vddp ...)

I am not sure if this is bug or not, or may be something on my side is wrong.
Last edited: