I have a licensed HWiNFO64 v722-7431 running on Win 11 v 22000.556 and I have two temperature sensor pop-out panels that refuse to save position after app restarts including log-outs and reboots. Every time I boot my PC I need to move these temp panels into their place on my 2nd display. This bug started happening after the last beta version and has not resolved after updating to the most recent production verson.
First image shows how the panels SHOULD look on my second display.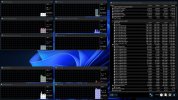 The Second screenshot is a capture across multiple screens showing the two temp panels (on-top of each other) that always end-up in this position after HWiNFO software restarts.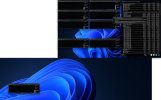 Let me know what other information I can share - I have a video of this happening but it contains some PII that's hard to filter out.
Thank you!
EDIT: Original report didn't attach, updating with new report attached below
Last edited: