I understand that in Gen 11 Intel Laptops (ie i7-117850H) with 3200mhz DDR4 ram, it must run at Gear 2
HWiNFO correctly shows this running in Gear 2.
It also shows the dram freq at about 1600 which I believe is correct.
However, there is no indication of what the memory controller freq is. In Gear 2, I think it should be about 800 (ie half of the dram freq).
Is there anywhere in HWiNFO that shows the memory controller speed of 800?
I want to ensure I am getting the full 3200 transfer (with double data rate of course).
CPU-Z shows the dram freq as 800 which I do not think is correct and I believe is actually the memory controller freq.
Please help.
Thanks
S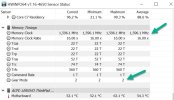 kylaner