SPD hub temperature sensor continues to disappear.
This symptom occurs very irregularly and the temperature sensor will be disabled if an incorrect voltage is displayed.
This symptom can occur arbitrarily, for example, by using the thaiphoon burner to read the DIMM information several times.
I am using Corsair icue and nzxt cam
The corsarLink & Asetek support option is disabled.
This problem also occurred when all services except MS Basic Services were interrupted and all Startup programs were disabled, judging to be due to interference with other services or applications.
However, this symptom is also occurring at random in normal times.
Please help me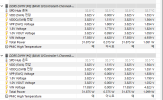 Last edited: