My pc started stuttering/lagging whenever I opened hwinfo64 and found that it was this specific sensor which was causing the issue. I had to disable monitoring of the whole cpu section to remove the stuttering.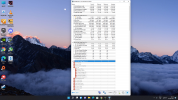 Please can someone help me on this?
I am worried if this is any kind of hardware failure or chipset driver issue because I recently clean installed windows 11 on my machine.
Thanks