Hello Guys,
I have an old pc
Hewlett-Packard HP Compaq 6000 Pro SFF PC with
Intel Core 2 Duo E7500
I also have windows 10 latest version 21h2 and hwinfo v 7.24-4770.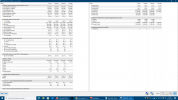 In my intel core 2 duo e 7500 what is the temperature sensor i should care about and enable an alert if the temperature is too hot?
Can you give a detailed explanation about cpu temp sensors for my cpu, because i have some doubts about which one is more dangerous and can damage my hardware.
I am a newbie with this readings.
I love this software because it's lightweight, it's useful and it's free.
I am Waiting for an answer ASAP.
Thank you for your help.
Kindly Regards.
Hugop.